Gifu University's new water well, "Spring of Friendship" completed
A completion ceremony for Gifu University's new water well was held on December 5, 2015. This water well was constructed through the generous contribution and courtesy of the General Incorporated Foundation International Club for the University.
The water well was named "Spring of Friendship" in the hopes of making the Spring an ideal spot for get-togethers and mingling between Japanese and international students of the University. It is also expected to supply people with water in case of natural disasters.

At the beginning of the ceremony, President Hisatakata Moriwaki and Ms. Rumi Aoyama, Chairwoman of the International Club delivered opening speeches, which was followed by a congratulatory message from a guest of honor, Ms. Seiko Noda, a member of the House of Representatives in Japan. Next, a ribbon-cutting ceremony was conducted and "Tari Indang" singing and dancing for friendship and unity followed. Indonesian students who are currently studying at the University proudly demonstrated their traditional"Tari Indang" performances to celebrate the Spring completion in front of the participants.
In the "Spring of Friendship," water comes from deep underground (about 98 meters from the ground surface) and is flowing down a front granite stone like a fall. Two faucets were installed in both sides of the Spring and a large-scale feed water inlet can be used for emergency water supply against natural disasters.
A small wooden bench was placed near the Spring for people to enjoy chatting. The participants of the ceremony expressed their hopes for this new spot of international friendship together with "Academic Core" of the University Library, another newly built space for studying and communications among the University students.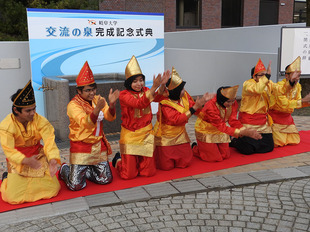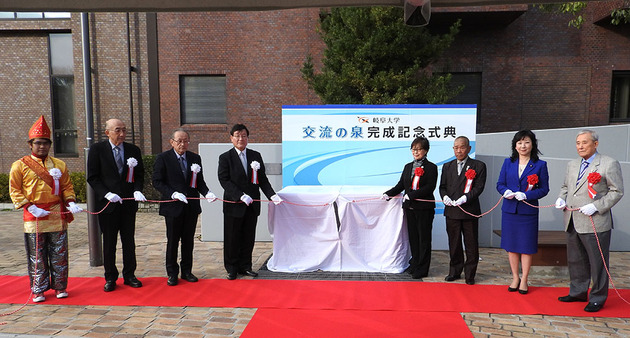 2016.01.04
Internal links
Original sites
External links
File links