Gifu University Student Team "iGEM Gifu" Reports Award Win to President
Gifu University Team "iGEM Gifu" won a silver medal at "international Genetically Engineered Machine (iGEM) 2015" which was open from September 24 to 28, 2015. "iGEM" is a world-class competition for students in the field of synthetic biology, and 259 teams from around the world participated in iGEM 2015. The team won a silver medal last year, with this year's win marking the second time in a row.
Members of iGEM Gifu and their supervisor, Dr. Hitoshi Iwahashi, Professor of the Faculty of Biological Sciences, visited the President's Office and reported their joy at winning an award to President Hisataka Moriwaki.

In the report, the members spoke about how they made their presentation* at the international competition in Massachusetts in the United States, and the moment they received the silver medal. They also explained they worked hard to improve their research presented at last year's competition, and to be more fully prepared for the question and answer session. Mr. Hasegawa, a member of the team showed his regret for not winning a gold medal stating, "I am very disappointed that we did not win a gold medal, although we were sure about our improvement compared with last year. We will support our junior colleagues to make our dream a reality."
President Moriwaki encouraged them by saying, "I am confident that your team has upgraded the research and worked hard for the competition. Please extend your experience to your junior colleagues. Gifu University will support your work as much as possible."
Part of the travel cost for the team to attend iGEM 2015 was covered by the Gifu University Fund. Gifu University will continue to provide support for students who try hard to widen their sphere of activities globally.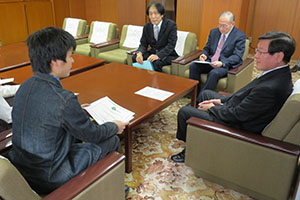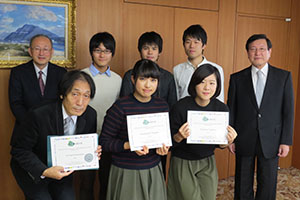 The members of iGEM Gifu gave an oral presentation in English (20-minute presentation and 10-minute question and answer session) and also made their presentations at the two poster sessions during the competition.
2016.01.04
Internal links
Original sites
External links
File links