[International Month in Fall 2015] Special Lounge
On November 9, 2015, the Gifu University Head Office for Glocalization (GHOGL) held a Special Lounge as part of International Month in Fall 2015.
The Special Lounge is organized once a year as a special version of the English Lounge that is held every month, to provide a venue for a dialogue in multiple languages other than English.
Chinese, German, French and Japanese Lounges were planned this year, but at the request of the participants, the Japanese Lounge became the Thai Lounge and an international student from Thailand served as the teacher. Around 40 participants including beginners with great interest in learning a new language, as well as learners wishing to make friends through language, attended the Special Lounge. They interacted with each other while learning basic knowledge and self-introductions guided by international students and native teaching staff.
In the responses to questionnaires collected after the Lounge, there was much positive feedback from the participants such as "It was a good opportunity to learn many languages and cultures of other countries" and "It was fun. I want to communicate with people more." And from a Chinese international student who served as the teacher, "I am happy to know people are interested in Chinese."
A participant proposed the idea that the next Special Lounge should provide a chance to learn more various languages from international students, focusing on languages for which there are few opportunities to learn in Japan, and such unique experiences of the Special Lounge are anticipated in the future.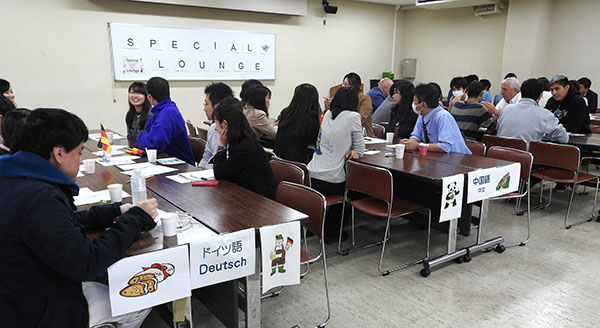 2016.01.04
Internal links
Original sites
External links
File links