International Month in Fall 2015 Network Meeting with the Local Companies
On November 11, 2015, Gifu University Head Office for Glocalization (GHOGL) held the Network Meeting with the Local Companies as part of International Month in Fall 2015. This Meeting is jointly organized and operated with Gifu Shinkin Bank Ltd. every year and it was the fourth such network meeting this year.
The Meeting is primarily designed for international students, and Japanese students who have great interest in international affairs. The major objective of the Meeting therefore, is to provide an opportunity for the Gifu University students to know more about advantages and features of local industries, and to broaden their visions for the future. As many as 15 local companies in and around Gifu City joined the Meeting, many of whom are in the manufacturing sector, and are strongly motivated to advance into international markets and employ international students.

The Meeting was made up of two sessions: presentations by individual companies in the first half, and talks at booths in the latter half. In the presentations, each company delivered a speech for about five minutes explaining their business operations at home and abroad, company products, etc. Participating students were all intently listening to the speakers. Later, students visited the booths of their choice and talked to the company officials, which was followed by active back and forth conversations between them.

The Meeting was attended by about 70 international and Japanese students. It is hoped that the Meeting will become a valuable occasion for Gifu University to produce human resources who are locally active with deep global insights in the future.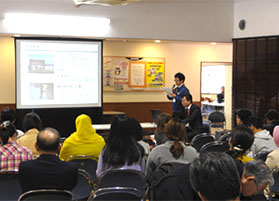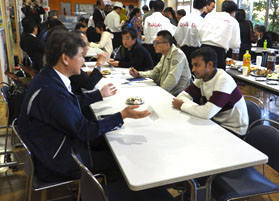 2015.12.24
Internal links
Original sites
External links
File links