Gifu University Medical Student Team Wins 6th Prize at "National CPR Championships for Medical Students"
Gifu University's medical student team (GEMs: Gifu Emergency Medical study) won the 6th prize at the National CPR (cardiopulmonary resuscitation) Championships for Medical Students on October 17, 2015. The members of the team reported their joy of receiving the prize to President Hisataka Moriwaki on October 27.

The National CPR Championships for Medical Students is held by the Japanese Association for Acute Medicine with the aim of improving the CPR skills of medical students. This time, Gifu University's medical student team won 1st prize in the primary round with teams from the Tokai and Hokuriku regions and moved on to the national championships, where they competed using their techniques and knowledge in a practical examination of chest compressions and mouth-to-mouth resuscitation, as well as in written examinations.

In the meeting with the President, Mr. Komei Kado (second year student of the School of Medicine), the leader of the team, said, "I felt a lack of expertise when I found some questions as difficult as those in the National Examination for Medical Practitioners in the paper test. But I found our skills reached a national level in the practical examination, which gave us big confidence." President Moriwaki offered them words of encouragement and said, "I feel honored to know that the team won the prize despite most of the members being first and second year students. I hope you will make constant efforts to improve your skills by competing in these championships, as well as to instruct your junior fellows."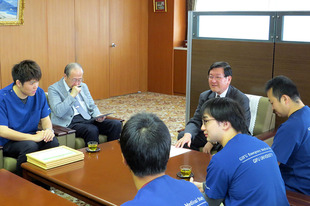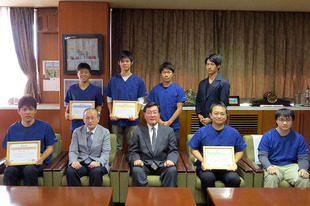 2015.12.01
Internal links
Original sites
External links
File links