New Food Manufacturing Company Created through Joint Research Project
Gero Specialty Manufacturer Ltd. has succeeded in producing a new type of konjac food in a joint research project with Dr. Takahisa Nishizu, a member of the Faculty of Applied Biological Sciences, Gifu University. This new type of konjac keeps its original texture and taste even after being frozen and unfrozen.

On April 22, 2015, the Gero Specialty Manufacturer Ltd. established a new company called, Mannan Factory HIDA to make frozen konjac products. The new company is funded by Gero Tokusan Ltd., Gero City Konjac Taro Production Union, Juroku Bank Sixth Industry Promotion Fund, two private companies, and the Ministry of Internal Affairs and Communications.

Konjac taro has been cultivated for profit in Gero City.* However, due to a drop in demand and a decreasing farming population, konjac taro production volume has been declining. Nevertheless, thanks to people's growing interest in health and an increase of frozen food production in Japan, frozen food companies were looking for low-calorie, healthy frozen food. At the request of these companies, Dr. Nishizu and the Gero Specialty Manufacturer Ltd. embarked on a joint research project and succeeded in developing a completely new type of konjac. By making and selling this frozen konjac product, the Mannan Factory HIDA hopes to increase konjac taro production in the northern Hida Region, including Gero City. It also wishes to contribute to regional revitalization by offering youth new job opportunities. On May 25, a press conference was held at The Juroku Bank Ltd. The Juroku Bank officials explained their decision to provide funding for the Mannan Factory HIDA to the reporters. Professor Wang Zhigang, Vice President for Industry-Government-Academia Collaboration at Gifu University attended the conference and spoke about the joint research project. "The latest joint project has set a successful precedent for regional invigoration by way of collaboration between Gifu University and the business community. We would like to continue to engage in these types of joint research projects in the years to come," said Professor Wang.

*Gero City is located in the northeast part of Gifu Prefecture.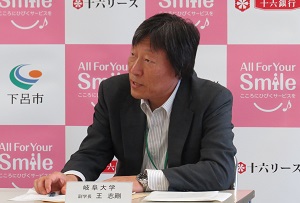 2015.07.23
Internal links
Original sites
External links
File links