MOU with University of Arkansas Fort Smith
The Faculty of Regional Studies and the University of Arkansas - Fort Smith (UAFS), USA signed a Memorandum of Understanding for Academic Cooperation (MOU) on Monday, June 8, 2015 with a view to promoting exchanges among students and researchers between the two institutions.

The University of Arkansas - Fort Smith is a four-year, state university located in the State of Arkansas. UAFS has long been recognized for its academic contributions to the local community, the large number of its graduates who work for local businesses and industries, and for its many successful international programs. One of the factors behind this MOU are the similarities between our two institutions: both Gifu University and UAFS are mid-size universities, both are located in the suburbs of major cities, and both focus on education and research activities in support of their respective local communities.

The signing ceremony held at the Faculty of Regional Studies was attended by Dr. Paul B. Beran, Chancellor of UAFS, and Mr. Takeo Suzuki, Executive Director, Office of International Relations of UAFS. Gifu University was represented by Dr. Fumiaki Suzuki, Executive Director for International Affairs and Public Relations, and Prof. Akiro Takeuchi, Dean of the Faculty of Regional Studies. Dr. Beran, Dr. Suzuki, and Prof. Takeuchi signed the MOU.

The two UAFS delegates later visited the Office of President and met with President Hisataka Moriwaki. Dr. Suzuki, Dr. Toyohide Takeuchi, Director of International Student Center, Prof. Akiro Takeuchi, Prof. Kazuo Nakagawa of the Faculty of Regional Studies, Ms. Junko Sugaya, Director of the International Planning Division and Ms. Konoe Kamei of the same division were also in attendance at this meeting.
Dr. Beran presented an overview of UAFS, noting that its campus has been designated as "Best Maintained Landscape in the Nation" in 2003. He also mentioned the university's ideal study and research environment, with its full range of modern equipment and facilities, many of which were built through private donations. In a wide-ranging presentation, he also spoke of the many international students currently studying at UAFS. Those attending the presentation were very interested to learn about UAFS's business partnership with local companies such as Wal-Mart Inc. (which is headquartered in Arkansas) and the University's demonstrated ability to secure funding.

This MOU is expected to play a crucial role in transforming the two universities into more globally-focused institutions and to facilitate exchanges among students and researchers. At the same time, the new relationship is expected to help support the Faculty of Regional Studies in initiating a new program called the "International Liberal Arts Course," which is scheduled to be launched in 2016.

Meeting participants expressed their hopes that the MOU between Gifu University and UAFS represents the first step toward a long-term, vital friendship in the years to come.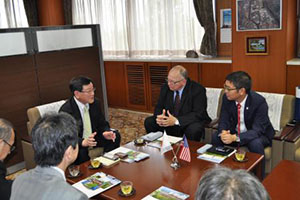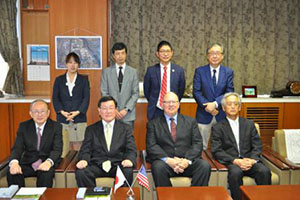 2015.07.01
Internal links
Original sites
External links
File links