The 5th press conference by Gifu University President
The 5th press conference by Gifu University President was held on Tuesday, November 18, 2014.
In association with "Future Visions from the 3rd Period Onward," Gifu University President Hisataka Moriwaki presented an overview of "Gifu University Global Environment & Energy Course (GU-GLEE) and International Exchange" (Faculty of Engineering), "MEDC Symposium 2014 'Nurturing Healthcare Professionals in Local Community'" and "the opening of Lab-Station of IC-GU12*, a new collaborative research laboratory, in Indonesia and the 'UGSAS-GU International Workshop in Bogor 2014'" (United Graduate School of Agricultural Science) at the press conference.
Following the presentation by President, each person in charge provided detailed information. In Q&A session, many questions were asked by reporters, and it became an opportunity to actively introduce the news of Gifu University.
 
*IC-GU12: "International Consortium of Universities in South and Southeast Asia for the Doctoral Education in Agricultural Science and Biotechnology" which was created under the initiative of Gifu University.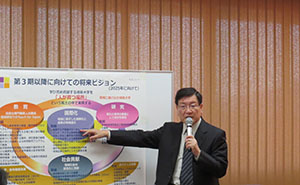 Announcements at the 5th press conference are as follows:
President Hisataka Moriwaki
Overview of "Future Visions from the 3rd Period Onward"(In Japanese) (PDF:528KB)
Dr. Koketsu, Associate Dean of the Faculty of Engineering
Gifu University Global Environment & Energy Course (GU-GLEE) and International Exchange
Dr. Suzuki, Director of Medical Education Development Center (MEDC)
MEDC Symposium 2014 "Nurturing Healthcare Professionals in Local Community"
Prof. Tohru Mitsunaga, Advisor to the Dean of the United Graduate School of Agricultural Science
The opening of Lab-Station of IC-GU12, a new collaborative research laboratory, in Indonesia and holding the "UGSAS-GU International Workshop in Bogor 2014" that includes speeches and internship report
2015.03.04
Internal links
Original sites
External links
File links