We will hold Lectures on Traffic Safety and Crime Prevention.
International students and researchers sometimes become both offenders and victims in traffic accidents, and involved in various criminal offenses due to lack of knowledge about traffic rules, regulations and law in Japan.
Gifu University Head Office for Glocalization (GHOGL) organizes "Lectures on Traffic Safety and Crime Prevention" in cooperation with Gifu Kita Police Station for accident and crime prevention.
Please come to listen to the lectures for your own safety
Time & Date:15:00 - 17:00 Friday, December 15, 2017
Venue:Lecture Room No.35 3F General Education Building
Intended Participants:International students and researchers, international teaching staff  and international student tutors, etc.
Themes & Speakers from Gifu Kita Police Station:  
 ※  English explanation papers will be distributed.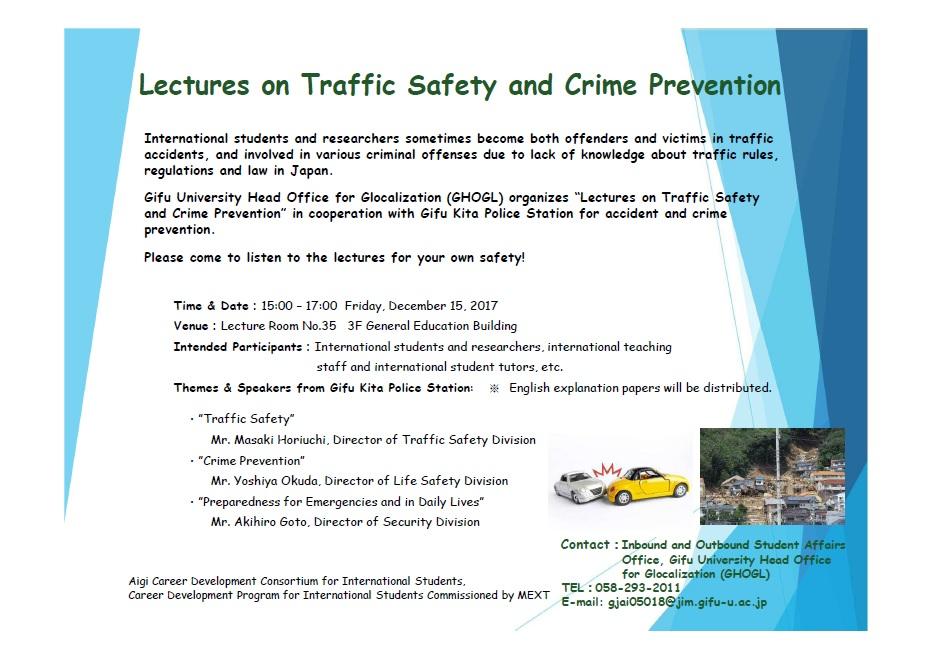 ・"Traffic Safety"
   Mr. Masaki Horiuchi, Director of Traffic Safety Division
 ・"Crime Prevention"
   Mr. Yoshiya Okuda, Director of Life Safety Division 
 ・"Preparedness for Emergencies and in Daily Lives"
   Mr. Akihiro Goto, Director of Security Division  
Contact:Inbound and Outbound Student Affairs Office, Gifu University Head Office for Glocalization (GHOGL)
TEL:058-293-2011
E-mail: gjai05018@jim.gifu-u.ac.jp
【Related files】Lectures on Traffic Safety and Crime Prevention (PDF:120KB)
2017.12.04
Internal links
Original sites
External links
File links