We will hold a International Student Exchange Forum with Juroku Bank.
We inform you of the International Student Exchange Forum With Juroku Bank.
The purpose of this event is to provide students with a chance to know more about local
businesses.
Please refer to the meeting details below.Active exchange with local business representatives will help participants increase the possibilities of great success in the future.Please apply to the Inbound & Outbound Student Affairs Office, if you want to participate in this program. Entry by email will also be accepted.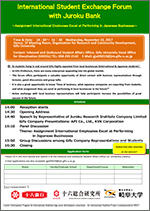 *Time & Date: Wednesday November 22th 2:30p.m-4:30p.m   
*Venue: 1F Meeting Room, Incubation Organization for Research and Community Development
【Program】
*Speech by representative of JUROKU RESEARCH INSTITUTE COMPANY
*Introduction of Companies
  API CO.,LTD.
 KVK CORPORATION
*Panel Discussion
 "Assignment International Employees Excel at Performing in Japanese Businesses"
*Group Discussions among Gifu Company Representatives and Students
    
【CONTACT】Inbound and Outbound Student Affaris Office
TEL:058-293-2142
✉gjai05019@jim.gifu-u.ac.jp
2017.11.07
Internal links
Original sites
External links
File links