We will hold a Networking with Local Companies.
We inform you of the Networking withg with Local Companies.
The purpose of this event is to provide students with a chance to know more about local
businesses.
Please refer to the meeting details below.It will be a great opportunity to know a variety of companies at the same time.Every student is welcome to join. We look forward to seeing you at the meeting.Please apply to the Inbound & Outbound Student Affairs Office, if you want to participate in this program. Entry by email will also be accepted.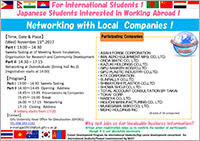 Date & Time: PartⅠ 1:00p.m - 2:30p.m
       PartⅡ 2:30p.m. - 5:15p.m.,
        (Wed) November 15th, 2017
Venue: PartⅠ Meeting Room, Business Incubation Center
    PartⅡ Seikyo Daini Shokudo (Dining Hall No.2)
【CONTACT】Inbound and Outbound Student Affairs Office
TEL:058-293-2142
✉gjai05019@jim.gifu-u.ac.jp
2017.11.01
Internal links
Original sites
External links
File links