New Agreement on Exchange with Hue University, Viet Nam
President Hisataka Moriwaki and Gifu University delegates visited Thừa Thiên-Huế Province in the North Central Coast region of Viet Nam on November 11-14, 2018. They attended the signing ceremony of Memorandum of Understanding and Agreement on Exchange between Gifu University and Hue University.
Located in the Thừa Thiên-Huế Province, Hue University has been selected as one of 14 government-designated national universities of excellence from more than 100 universities across the country.
The Faculty of Applied Biological Sciences, Gifu University signed the faculty-level agreement with Hue University of Agriculture and Forestry in April 2018 for the promotion of researcher and academic material exchanges. The latest MoU and the agreement which include the provisions of student exchange and facilitation of joint research activities are expected to create a substantial framework for university-level agreement in the future.
In the presence of Governor Hajime Furuta of Gifu Prefecture and Mr. Yoshiaki Bito, a member of Gifu Prefectural Assembly, the signing ceremony was conducted. "Hue University is focusing on the development of agriculture and tourism, and the new partnership with Gifu University will pave the way for our successful collaboration in these fields," said Assoc. Prof. Dr. Nguyen Quang Linh, President of Hue University. President Moriwaki said that he is having a high hope for vigorous exchanges among students and researchers, which could lead to forging a strong friendship between Gifu Prefecture and Thừa Thiên-Huế Province, and by further extension, a dynamic partnership between Japan and Viet Nam in the foreseeable future.
After the ceremony, President Moriwaki visited Hue University Hall of Tradition and the School of Hospitality and Tourism of Hue University. In the hall, the GU delegations were briefed on the history of Hue University and observed the items on display.
With the signing of MoU and Agreement, long-standing exchanges in extensive fields of research and studies become a shared goal to pursue for Gifu University and Hue University.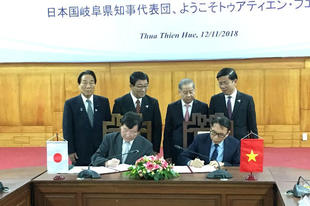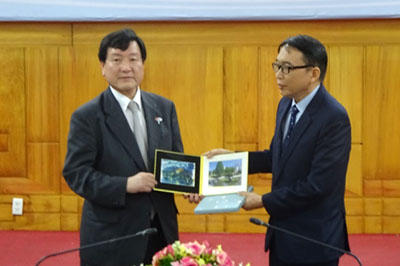 2018.12.17
Internal links
Original sites
External links
File links