Aigi Career Development Consortium for International Students Gifu Region Workshop 2018
Aigi Career Development Consortium for International Students: Gifu Region Workshop 2018 was held at the Gifu University Satellite Campus on October 31, 2018.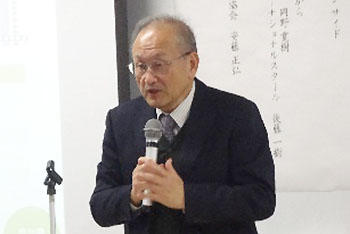 The consortium was established in September 2017 to support international students' job-seeking efforts in Japan through partnership among universities, local governments, economic organizations, and enterprise-supporting associations within Gifu and Aichi prefectures. The member organizations share the common ideals of the Career Development Program for International Students which is commissioned by the Ministry of Education, Culture, Sports, Science and Technology of Japan (MEXT).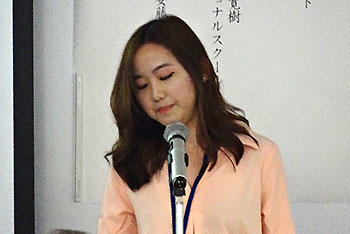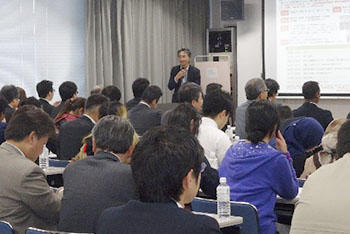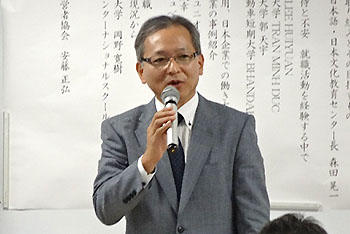 Four organizations within Gifu Prefecture (Gifu University, Gifu Prefecture, Gifu Employers' Association, and Japan External Trade Organization (JETRO) Gifu) co-hosted the workshop in an effort to deepen mutual understanding between international students and enterprises within Gifu. A total of 103 people attended.
In the first lecture session, on behalf of the four organizations, Dr. Fumiaki Suzuki, Executive Director for International Affairs and Public Relations, Gifu University, gave an opening speech. It was followed by the speech of Professor Koichi Morita, Director of the Gifu University Center for Japanese Language and Culture (the program's project team leader) who spoke about the projects and activities being implemented within the Gifu region, as well as the future goals of the career development program.
The followings are the student speakers from the Gifu region:
- Ms. Lee Huiyuan from Gifu University
- Mr. Tran Minh Duc from Gifu Keizai University
- Mr. Guo Tianyu from Chubu Gakuin University
- Mr. Bhandari Rajendra from Nakanihon Automotive College
They frankly commented the reasons why they are hoping to find an employment in Gifu or in Japan, differences of job-seeking approaches between Japan and their home countries, and how to build a future career path.
Mr. Masayuki Toyoda, CEO of Union., Ltd and Mr. Marju Ben Sayed, also a Union employee were invited to speak for the workshop. Mr. Toyoda presented his ideas about hiring international students whereas Mr. Sayed talked about his job-seeking experiences in Japan and his future career plan. Later, Mr. Okano from Chubu Gakuin University student career support center and a special lecturer Mr. Goto from Hotsuma International School gave lectures concerning the school's support for job-hunting activities of international students, the reality and their future initiatives.
At the end of first session, Mr. Ando, Chair of the Gifu Employers' Association gave closing remarks.
In the second session, the participants were divided into some small groups with about 10 people including business representatives and international students. They rotated by groups for talks with different partners. Professor Hiroyuki Koyama, Vice Director of the GHOGL (Gifu University Head Office for Glocalization), Professor Mutsuhiro Shima, also GHOGL Vice Director, Assistant Professor Mayumi Kawase (Faculty of Engineering) and a visiting professor Shinichi Miwa (Faculty of Engineering) were assigned to be facilitators for the group talks.
"I heard a lot of candid opinions from international students." We will contemplate our future recruitment policies by reflecting the comments we heard from the students today." "I had a chance to meet students from different countries and know their job-seeking approaches." - these are the comments from the company representatives in attendance.
"The meeting between students and business representatives was a little short." "I heard a lot of different opinions and visions from the company officials, and they were quite informative to me," said the international students after the workshop.
The workshop was held as an "expansion" of the career development program within the framework of the Gifu Regional Council for the Promotion of International Exchange*, and it became an important stepping stone for regional internationalization and economic development.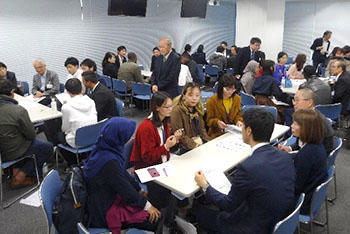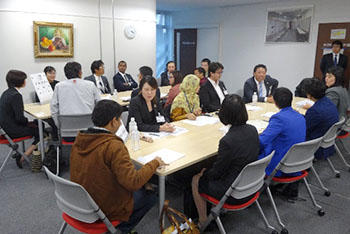 *Gifu Regional Council for the Promotion of International Exchange: established in February 1990 with the purposes of facilitating smooth acceptance of international students and exchange activities in Gifu Prefecture. It carries out programs/projects for the improvement of living and studying environments for international students, promotion of exchanges between students and local residents.
2018.12.06
Internal links
Original sites
External links
File links