International Month 2016:The 3rd Meeting between International Students, Researchers and Board Members hosted by the President is held
On November 8, 2016, Gifu University Head Office for Glocalization (GHOGL) hosted "the 3rd Meeting between International Students, Researchers and Board Members hosted by the President" at the Dining Hall No.2. It was held as part of the International Month 2016. Starting from 2014, the meeting is designed to promote mutual friendship between board members including the President, and international students, researchers and their families.

First, President Hisataka Moriwaki gave an opening speech. After the introduction of the board members, Dr. Fumiaki Suzuki, Executive Director for International Affairs and Public Relations and Director of GHOGL proposed a toast to the meeting's success. Then, the participants started to enjoy buffet-style meals and casual conversations with one another.

As a new program of the 3rd Meeting, a total of 7 international and Japanese student teams and individuals showed their performances on stage. The international student teams are made up of the students coming from the same countries and they demonstrated original performances unique to their respective native countries. The followings are the details of the program:
・Students from Indonesia sang songs with the guitar and a traditional music instrument,
・A student from China introduced Mongolian traditional singing called, "throat singing,"
・Gifu University Kendo Club members explained about kendo swordsmanship and showed some kendo techniques,
・Students from Viet Nam sang songs with the guitar,
・A student from Ukraine sang a popular song of his country,
・Students from Thailand showed images of the late King Bhumibol Adulyadej on screen and sung songs glorifying a monarchy,
・A group of Japanese students and the university staff played the Koto harps and the Shakuhachi flute

The audience was intently listening to the distinctive sound and watching powerful martial art performances. After the program, President Moriwaki gave a sincere compliment to each performer and handed out commemorative gifts to them as a token of his gratitude. At the end of the meeting, Professor Hiroyuki Koyama, Vice Director of GHOGL gave a closing speech to thank everyone.

In this 3rd Meeting, around 180 people attended whose numbers exceeded that of the attendees last year. Many positive comments were found at the questionnaire papers distributed to the attendees. They are: "I felt cultures of different countries first-hand," "I made friends with a lot of international students," "I want to introduce the culture of my own country by doing some performances next year." They all reflected a great success of the meeting and a big turnout at the meetings is expected from the next year on.

The Meeting between International Students, Researchers and Board Members hosted by the President continues to offer a venue for exchange among international students, researchers, their families and the board members. The 3rd Meeting proved to be a very meaningful and fruitful moment of exchange and a place for observing and deepening the understanding of various cultures of the world to the participants.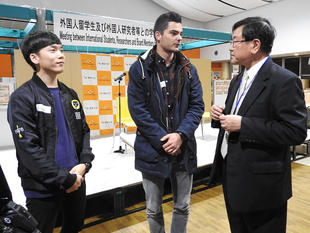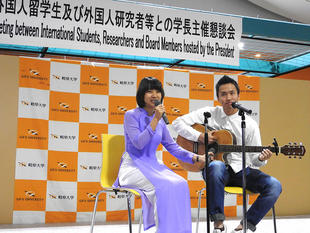 2016.12.13
Internal links
Original sites
External links
File links