Presentations by graduates of Gifu University Rearing Program for Basin Water Environmental Leaders (BWEL) will be held
In order to grasp the activity situation of graduates of BWEL and deepen the exchange between the graduates and the students currently learning under the program and in our university, presentations by two invited graduates of the program will be held as follows. We are waiting for the participation of staff and students who are interested.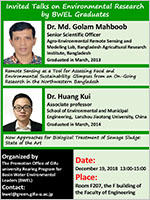 Time :  13:00-15:00, December 19, 2018
Place : Room F207,
     the F building of the Faculty of Engineering
Language : English
Presenters
Dr. Md. Golam Mahboob
     Senior Scientific Officer, Bangladesh Agricultural Research Institute, Bangladesh

"Remote Sensing as a Tool for Assessing Food and Environmental Sustainability: Glimpses from an On-Going Research in the Northwestern Bangladesh"

Dr. Huang Kui
     Associate Professor, Lanzhou Jiaotong University, China

"New Approaches for Biological Treatment of Sewage Sludge: State of the Art"
---
2018.12.18
Internal links
Original sites
External links
File links