Mr. Ryoichi Akamatsu takes part in 2022 World Athletics Championships
Mr. Ryoichi Akamatsu who graduated from the Graduate School of Education, Gifu University in 2020 (currently belongs to Awards Co., Ltd., and a research student of the Graduate School of Medicine, Gifu University) is going to compete at the male high jump category in 2022 World Athletics Championships (held in Oregon, United States) from Friday, July 15, 2022 to Sunday, July 24.
On Tuesday, July 5, 2022, Mr. Akamatsu and Assistant Professor Ryohei Hayashi (special trainer for Mr. Akamatsu and a manager of Truck & Field Club at GU) visited the Office of the President and reported Mr. Akamatsu's participation in the Championships to President Kazuhiro Yoshida of Gifu University.
"As a representative of Japan, I am confident to compete in world athletic events. I will be able to pass the preliminary competitions if I can beat my personal-best record (228cm high). My first goal is to pass the preliminary competitions and keep on advancing for higher prize," said Mr. Akamatsu.
President Yoshida congratulated Mr. Akamatsu on his participation in the Championships and said, "We are very proud that such an outstanding athlete like Mr. Akamatsu graduated from our university. His continued efforts and Professor Hayashi's dedications to his remarkable records resulted in Mr. Akamatsu's successful bid to participate in the Championships. There must be many GU students to follow the example of Mr. Akamatsu. I hope Mr. Akamatsu plays an active role in our community as one of world's best athletes in the days to come."
Mr. Akamatsu is currently working for Awads Co., Ltd. while studying as a research student at the Graduate School of Medicine at Gifu University. Despite such a tight daily schedule, he keeps on practicing hard to win in the Championships. We appreciate everyone's kind support and encouragement for the success of Mr. Akamatsu in 2022 World Athletics Championships.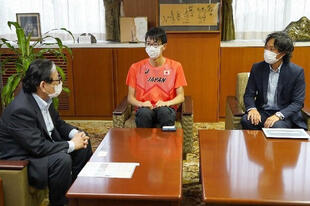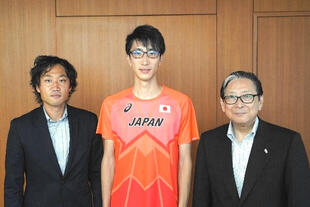 2022.07.19
Internal links
Original sites
External links
File links