"Lecture on Safe Hydrogen Use" opened
The Gifu Renewable Energy System Research Center (G-RESRC), Institute for Advanced Study hosted "Lecture on Safe Hydrogen Use" at Gifu University Auditorium on Wednesday, May 18, 2022. It was attended by 230 staff and students of Gifu University.
Hydrogen is drawing a lot of attention these days as important energy source free from CO2 emissions, but hydrogen spreads quickly and could cause big fires or explosions if misused. The lecture was designed to help staff and students understand the real risk of using hydrogen and to promote its safe use for educational or research purposes on campus.
At the beginning of the lecture, Associate Professor Rumiko Hayashi, Deputy Manager of Environment Health & Safety Office, Nagoya University spoke about general points of attention in dealing with high-pressure gas. It was followed by the speech of Professor Kengo Tomita, Manager of Environment Health & Safety Office, Nagoya University who gave a speech on special hydrogen features revealed from the past accidents and how to use hydrogen safely.
The audience renewed their understanding about the potential risks of handling hydrogen and its safe use. Knowing the risks of hydrogen is crucial as the world soon needs to embrace society with more use of hydrogen to further push forward "de-carbonization" drive.
After the integration in April 2020 between Nagoya University and Gifu University to form the Tokai National Higher Education and Research System, the two universities are sharing risk information as well as educational resources to secure safer environment for staff and students. We continue to work for creating safe educational environment by reinforcing our partnership with Nagoya University.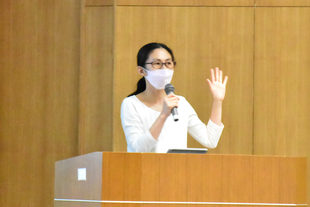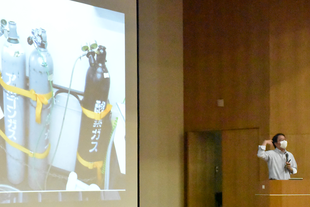 2022.06.01
Internal links
Original sites
External links
File links