Consul général Jules Irrmann from Consulat général de France à Kyoto visited Gifu University
On Tuesday, December 22, 2020, a delegation from Consulat général de France à Kyoto visited Gifu University. They were Consul général Jules Irrmann, Ms. Yasue Iizuka, Chairperson of Japan-France Association in Gifu, Mr. Mitsuru Sugihara and Mr. Madoka Yasui (both are the members of the association board).
First, they paid a courtesy call on the President of Gifu University, Hisataka Moriwaki at the Office of the President. The meeting was joined by Vice President Makoto Sugiyama (General Manager and International Affairs), Professor Yoshihiko Uematsu, Executive Director for Gifu University Organization for Promotion of Glocalization (GU-GLOCAL), and Professor Minoru Sasaki, the Faculty of Engineering. They exchanged their views on the status of academic exchange between Gifu University and its partner universities in France, promotion of study abroad programs, and research activities in aerospace and space engineering.
After the meeting, the delegation observed a class (French II) at the General Education Building. Many questions were raised from the students, and consul général answered every question in detail (e.g. cultural differences between France and Japan, the French government's responses to COVID-19, etc.) by sometimes recounting his own experiences.
Gifu University concluded university-level exchange agreement with two universities in France; Paris-Sud University (in December 2014) and University of Lille (in April 2020).
We strongly hope that our partnership with these two universities continue to thrive through active inbound and outbound student and faculty exchange for many years to come.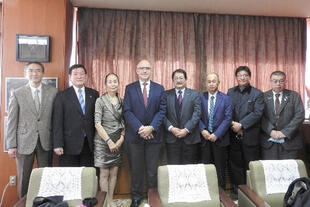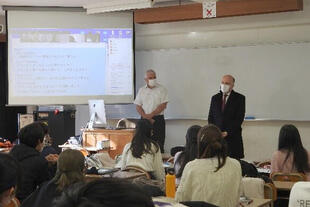 2020.12.28
Internal links
Original sites
External links
File links