Clean Campus Campaign in Autumn 2020
Gifu University conducted "Clean Campus Campaign in Autumn 2020" on Wednesday, November 11, 2020. Approximately 600 university staff and students took part in the campaign, and engaged in cleanup activities for about an hour throughout campus. Members of the Gifu Prefectural Research Institute for Food Science, and Gifu Pharmaceutical University (both buildings are located within campus) also joined the campaign. In addition to cleaning activities, the participants planted flowers around the Faculty of Education building together with the university maintenance staff.
After the call of encouragement by Mr. Takashi Shirai, Manager of Facilities Management Division who said, "As an "Environmental University," let's take care of the surrounding environment of our campus," approximately 50 university staff, members of "three trees" (students circle), and students studying "Modern Society and Volunteer" course joined cleaning activities in and around the campus (including roads and vegetable fields nearby). Under a slogan, "Zero Trash around Campus," participants were busy with picking up trash while taking proper infection prevention measures.
Because fewer students have been on campus since the beginning of this academic year due to the outbreak of novel coronavirus infections, the volume of trash collected was comparatively small compared to last year.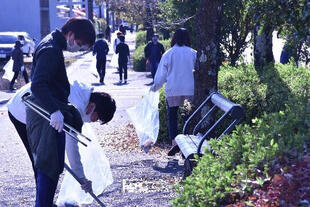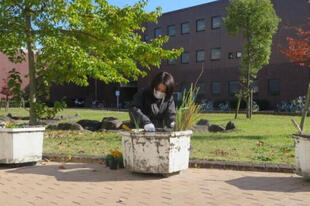 ---
2020.11.27
Internal links
Original sites
External links
File links