GU students present their business plan at "South by Southwest"
On behalf of Aichi Prefecture, Gifu University will attend "South by Southwest* (SXSW)" held in Austin, Texas, United States from March 15 to 18, 2020. GU students won the ticket to the attend the Trade Show of SXSW when they were successfully selected at the final screening process held at the Aichi Prefectural Government Office on October 4, 2019. The following are the members of the winning GU team:
- Mr. Shunya Chosokabe (4th year student, Department of Chemistry and Biomolecular Science, the Faculty of Engineering; Professor Akiyoshi Takeno's Laboratory)
- Ms. Rina Sawada (3rd year student, Department of Chemistry and Biomolecular Science, the Faculty of Engineering), and
- Mr. Taiki Yoshikawa (Aichi Institute of Technology)
Prior to the screening at Aichi Prefectural Government, Mr. Chosokabe won the overseas challenge award at Tongali Business Plan Contest 2019, and his winning helped the GU team earn a ticket to attend SXSW.
All eyes are on the Trade Show at SXSW for its technological marvels and innovations presented at the venue. Students, startups, business leaders, etc. are all welcome to take part in the show as exhibitors.
In the final screening in Aichi, GU team made a presentation on "Infection Barrier." They explained how to develop and commercialize infection free (insect repellent) cloths using Gifu University's patented technology of inserting functionalized molecule into fiber.
Gifu University is carrying out programs to support entrepreneurship and creation of venture businesses starting from the university with the Head Office for Industry-Government-Academia Collaboration (headed by Associate Professor Uehara) as a center, and also in collaboration with external bodies (financial institutions, private enterprises, etc.). They aim to encourage students and researchers to try their hands in starting their own businesses. We continue to contribute regional vitalization and creation of new businesses through education and mentoring by entrepreneurs (Gifu University alumni), and building up the university's own startup development ecosystem.
*South by Southwest: an annual conglomerate of film, interactive media, and music festivals and conference that take place in mid-March in Austin, Texas, United States.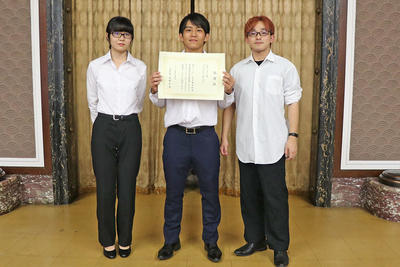 2019.10.21
Internal links
Original sites
External links
File links