International Joint PhD Degree Program Agreement with UKM
The signing ceremony for the International Joint PhD Degree Program Agreement between Universiti Kebangsaan Malaysia (UKM, Malaysia) and Gifu University was held at UKM on October 22, 2018.
UKM is one of the top five research-intensive universities in Malaysia. It is located in Bangi, Selangor, approximately 35km southeast of Kuala Lumpur. It has 13 faculties, and since its foundation, the university has constantly ranked as the highest-level educational institution in Malaysia evidenced by different global university rankings. Such a high-ranking status can be attributed to its distinctive, pioneering research and academic programs/projects as well as its engagement in the local community and continued efforts for internationalization. UKM is highly acclaimed as the leading institution both at home and abroad today.
In a joint degree (JD) program, a single degree certificate is awarded by two or more partner universities to a student who has completed the program implemented by the partner universities. With the conclusion of the joint PhD degree agreement, UKM and Gifu University International Joint Department of Materials Science and Engineering Program will be established in the Gifu University's Graduate School of Engineering as a doctoral program in April 2019.
In the signing ceremony, UKM Vice-Chancellor Dr. Noor Azlan Ghazali made a congratulatory address, which was followed by the speech of President Hisataka Moriwaki of Gifu University. Vice-Chancellor Ghazali, the Dean of Faculty of Science and Technology, Prof. Mohammad Kassim, President Moriwaki and Dr. Fumiaki Suzuki, Executive Director for International Affairs and Public Relations gave their respective signatures to the agreement and later exchanged the gifts with each other.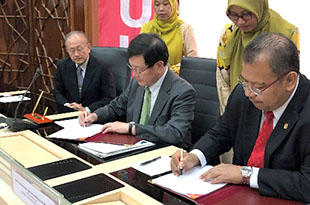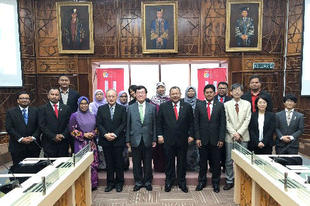 On October 23, the Gifu University delegation visited the Embassy of Japan in Malaysia and reported the signing and the details of the JD program to Deputy Chief of the Mission Hiroyuki Orikasa and First Secretary, Education and Science Attache Sentaro Ishikawa. They also discussed the current situations in Japan and Malaysia and the general perceptions of people in Malaysia about Japanese universities today. Deputy Chief Orikasa also specifically mentioned that out of approximately 300 agreements that have been signed between the Malaysian and Japanese Universities, this will be the first example that has developed into an international joint degree.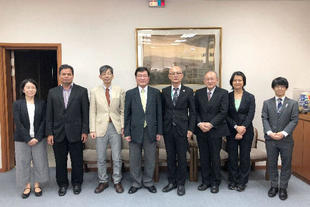 It is hoped that the latest Gifu University delegation's visit to UKM will be contributory in forging a much stronger tie between the two universities, and will pave the way for forming new partnerships with other universities in Malaysia.
2018.11.27
Internal links
Original sites
External links
File links