Space Engineering Seminar Opens
The Center for Collaborative Study with Community, Gifu University kicked off a "Space Engineering Seminar" for senior high school and technical college students within Gifu Prefecture on June 2, 2018. Seventy-nine students studying space engineering participated in the seminar.
"Space Engineering Seminar" is a part of "Senior High School & University Partnership Program" of COC+* projects, and is jointly organized by Gifu Prefecture, Kakamigahara City, Gifu Prefectural Board of Education, Gifu Kakamigahara Air and Space Museum and National Institute of Technology, Gifu College. The seminar includes lectures at each high school by teleconferencing and visit to the Japan Aerospace Exploration Agency (JAXA) in Tokyo. The students can attend the most advanced space education during the seminar.
At the opening ceremony, President Hisataka Moriwaki gave the following message to the audience: "The seminar is designed for students to learn the basics of space engineering and to cultivate human resources who can lead the fields of artificial satellites, rockets and the aviation industry in the future. I hope that every student in attendance today will make a great contribution to the further growth of aviation and space businesses in coming years."
Professor Seiichi Sakamoto, Director of the National Astronomical Observatory of Japan gave a special lecture titled, "Challenge for Space," and the students listened to his speech with great interest. There are a total of nine seminars by Gifu University teachers and JAXA staff and a visit to JAXA.
*COC+: Center of Community Program for Local Revitalization of the Ministry of Education, Culture, Sports, Science and Technology (MEXT)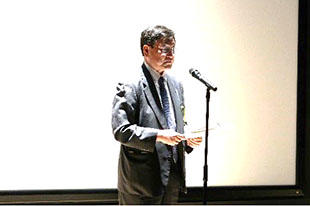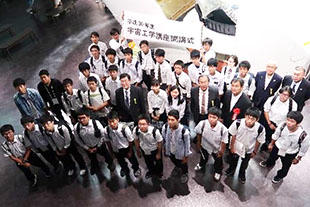 2018.06.19
Internal links
Original sites
External links
File links