The 9th United Graduate School of Agricultural Science Seminar
The United Graduate School of Agricultural Science (UGSAS) held a seminar with the title, "The 9th United Graduate School of Agricultural Science Seminar; Overseas Research Internship Report Session" on May 23, 2018. A total of 11 people attended.
After the speech by Professor Kohei Nakano of UGSAS, three students made presentations about their experiences of attending the "Research Internship" which is one of UGSAS's course subjects. All three went to IC-GU 12* partner universities abroad for the internships. In their presentations, they spoke about different life environment, communications with their supervisors while they were in foreign countries. They all had wonderful, unique experiences, and they said that many of them were beyond their imagination until they left Japan. They also reported their strong wishes of making the best use of the experiences for their future academic activities.
Students and staff of Shizuoka University, one of Gifu University's partner schools, joined the Q&A session live via videoconferencing system.            
*IC-GU 12: "International Consortium of Universities in South and Southeast Asia for the Doctoral Education in Agricultural Science and Biotechnology", which was created at the initiative of Gifu University.
---

Overseas Research Internship Report Session
Mr. MOHAMMAD NURUZZAMAN MASUM(D3)
   University of Dhaka May 5, 2017 - May 31, 2017
Mr. TRAN DUY QUAN(D2)
   Thuyloi University  October 30, 2017 - November 29, 2017
Ms. JOBAIDA AKTHER(D2)
   University of Dhaka December 3, 2017 - January 10, 2018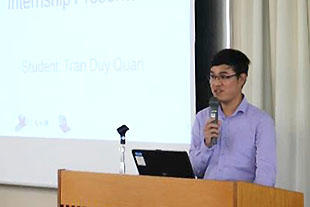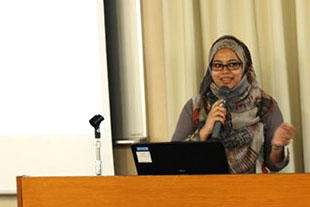 2018.06.07
Internal links
Original sites
External links
File links