The 6th Liberal Arts Seminar "President Moriwaki Talks about Movies!"
The Liberal Arts Education Division of the Organization for Promotion of Higher Education and Student Support, Gifu University held the 6th Liberal Arts Seminar at the General Education Building on January 31, 2018.

The Liberal Arts Education Division holds the seminars for students with the purpose of conveying the importance of liberal arts education. At the 6th seminar, President Hisataka Moriwaki delivered a speech, "President Moriwaki Talks about Movies!"

The President is a great fan of movies and sees 20 to 30 films every year. He spoke about 124 movies he saw in the past across different movie genres, and also commented on movie critics, movie theaters in Gifu and Nagoya (Aichi Prefecture) as well as animation in Japan and foreign countries.

The room was packed with people (approximately 40) and they all fully enjoyed President's talk. The audience was very impressed particularly because his talk was very different from his official statements made for students and for the public.

Toward the Gifu University's 70th Foundation Anniversary, President added; "I hope that many new projects will kick off with the themes of the movies shot or produced at Gifu City and the former Gifu University Kakamigahara Campus (Gifu Prefecture).

We look forward to welcoming your participation in the 7th seminar.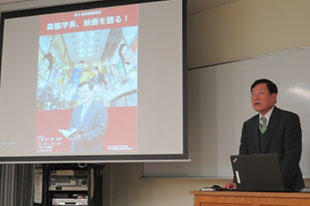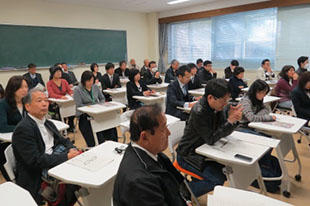 2018.03.01
Internal links
Original sites
External links
File links