Memorandum of Understanding between Graduate School of Education and Kitagata Town
The Professional Degree Program, Graduate School of Education aims to foster highly-skilled teaching professionals who promote practical training and development of schools, and grow into work-ready school leaders. The new Teacher Education Course was introduced in April 2017 into the Professional Degree Program and those who are enrolled in the course can study at the school while working at their own schools. This course comprises special curricula designed to help people acquire high problem-solving skills in the fields of "class development, educational clinical practice and special needs education." The major objective of this course is to produce "middle leaders," who play a central role at schools and regions.

The Graduate School of Education and Kitagata Town singed the Memorandum of Understanding for Partnership to Enhance Quality of Teaching Staff on November 21, 2017. Under this MoU, the two will cooperate with one another to produce many "middle leaders." Kitagata Town will give full support to teaching staff in their study at the school while working, and giving their knowledge and experiences back to local communities. On the other hand, all staff of Graduate School of Education are pledging to do their utmost to live up to the expectations of Kitagata Town in nurturing excellent teaching staff.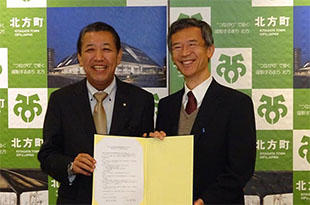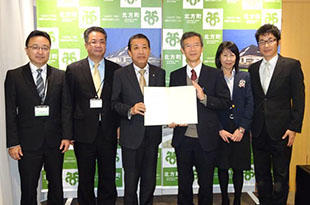 2017.12.08
Internal links
Original sites
External links
File links