"Nurse of the Year" Award Ceremony is held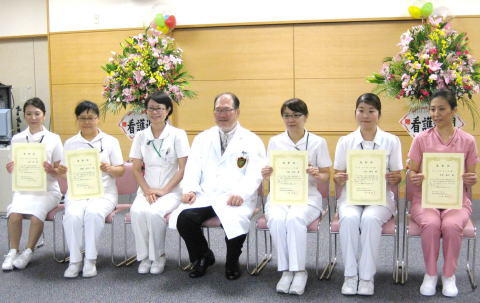 The Gifu University Hospital designates the period from May 9 to 13 as a "Nurse Week" and hosts various events every year.

On May 10, 2016, the "Nurse of the Year: Most Brilliant Nursing Staff" Award Ceremony was held at the hospital. This ceremony is held every year to honor the nurses who have received recognition for their outstanding nursing skills and demonstration of decisive yet compassionate approaches to the patients in 2015.

Five nurses who have already had many years of experiences in nursing were chosen for the award. Dr. Shinji Ogura, Director of the University Hospital handed out the award certificates and small gifts to the individual recipients. Ms. Yasuko Hirose, Associate Director of the Hospital (also serves as Director of the Division of Nursing) and other senior nurses were in attendance to observe the ceremony.

Dr. Ogura gave the recipients a congratulatory message and expressed his strong expectations for their roles in supporting their juniors and further achievements in the future.

In addition to the ceremony, the Division of Nursing is introducing its activities at multiple occasions in places such as the Exhibition Corner on the first floor of the hospital building during the "Nurse Week."
Award Ceremony on May 10, 2016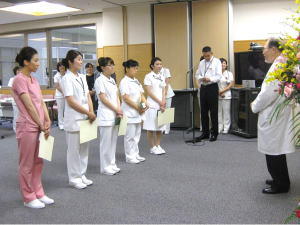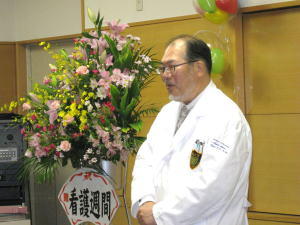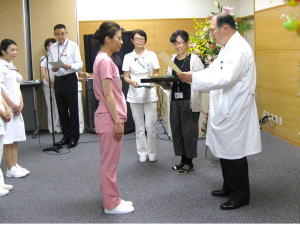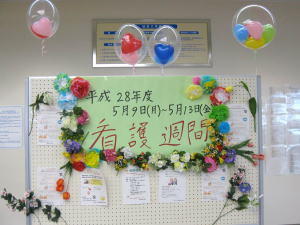 2016.05.30
Internal links
Original sites
External links
File links