President of Tongji University made a courtesy call on President Hisataka Moriwaki
On December 1, 2015, Professor Pei Gang, President of Tongji University, China made a courtesy call on President Hisataka Moriwaki. He was accompanied by Dr. Huang Yu, Vice Dean of the Graduate School and Ms. Huang Xiaojie of International Exchange and Cooperation Office of Tongji University.
Tongji University and Gifu University concluded an Agreement on Student and Faculty Exchange in March 2006 and the two institutions have actively engaged in various exchange programs ever since.

Dr. Fumiaki Suzuki, Executive Director for International Affairs and Public Relations, Dr. Atsushi Yashima and Dr. Kazuhide Sawada of the Faculty of Engineering joined a discussion in the meeting with the President. During his visit, Dr. Huang Yu was reunited with Dr. Yashima, who supervised him when he was enrolled in Gifu University as a postdoctoral researcher.

In the meeting, President Moriwaki said, "Tongji University ranks one of the best in China in the fields of engineering and social infrastructure development. As Gifu University is also focusing on the same fields of research, the relationship between Gifu University and Tongji University will become more significant than ever." The two presidents then confirmed the importance of continued, strong ties between the two institutions.

After the meeting, President Pei Gang and Ms. Huang Xiaojie visited the School of Medicine and Dr. Huang Yu visited the Faculty of Engineering respectively. In each facility, they were warmly welcomed by teaching and administrative staffs and deepened their friendship with one another.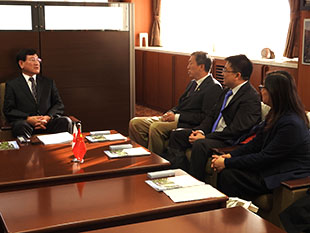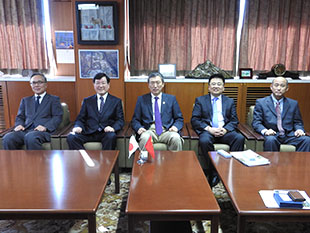 2016.01.28
Internal links
Original sites
External links
File links