The 2nd President Press Meeting for 2015
The 2nd President Press Meeting for 2015 was held on Wednesday, May 20, 2015.
Firstly, President Moriwaki Hisataka briefly introduced the contents of the next presentation about the newly opened "Gifu Disaster Mitigation Center*1" by two speakers in association with the "Future Visions from the Third Period Onward*2."
Next, Director of Gifu Disaster Mitigation Center, Dr. Masata Sugito (Executive Director for Planning, Evaluation and Fund) and Dr. Maki Koyama, Kyoto University Graduate School of Global Environmental Studies spoke about the objectives of the Center and a planned symposium for disaster prevention and reduction. They also mentioned Dr. Koyama's action plan for disaster measures. Dr. Koyama was appointed to be Associate Professor of the River Basin Research Center, Gifu University on June 1, 2015, and she joins the activities of the Center. In the meeting, the two expressed their hopes and commitments to address disaster problems and said, "We would like to intensively discuss disaster prevention and reduction issues from interdisciplinary perspective and foster disaster specialists in collaboration with Gifu Prefecture."
In the following question and answer session, many questions were raised by media reporters. The President's press meetings are held on a regular basis and they are becoming an invaluable opportunity for the university to disseminate campus information to the public.
Speaker & Speech Title: President Moriwaki  "Future Vision from the Third Period Onward" Dr Sugito and Dr. Koyama  "Activities of Gifu Disaster Mitigation Center and the Scheduled Symposium"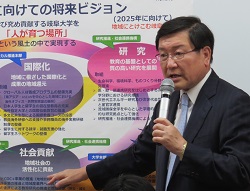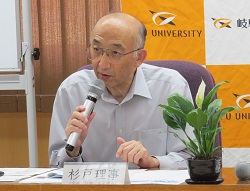 *1 Gifu Disaster Mitigation Center: jointly established by Gifu University and Gifu Prefecture on April 1, 2015
*2 Future Visions from the Third Period Onward: Gifu University's grand visions for the year 2025
2015.06.19
Internal links
Original sites
External links
File links