Opening of the Respective Offices in Gifu University and Sebelas Maret University
Dr. Hisataka Moriwaki, President of Gifu University, Dr. Fumiaki Suzuki, Executive Director for International Affairs and Public Relations, Dr. Hiroyuki Koyama, Advisor to the President visited Sebelas Maret University, Republic of Indonesia on December 2nd, 2014. Sebelas Maret University is one of the Gifu University overseas sister universities.
The major objectives of Gifu University delegation's visit to Sebelas Maret University this time include conclusion of agreement to open Gifu University Office within the campus of Sebelas Maret University, and opinion exchange for the office operation and joint education programs between the two universities in the future. Prof. Dr. Ravik Karsidi, Rector of Sebelas Maret University, Prof. Dr. Sutarno, Vice Rector, Prof. Dr. Ahmad Yunus, Dean of Graduate School, Prof. Dr. Bambang Pujiasmanto, Dean of Faculty of Agriculture, Mr. Muhammad Taufiq Al Makmun, M.A., Head of International Office and other staff gave a warm welcome to Gifu University delegation and the meeting started.
Firstly, Prof. Dr. Ravik Karsidi, delivered a welcome address to the delegation members, and then Dr. Moriwaki made a presentation titled, "Current Status and Future Prospect of Gifu University".
Next, the Signing Ceremony was held in a Rector's meeting room and both universities have officially approved the opening of Gifu University Office within Sebelas Maret University, and Sebelas Maret University Office in Gifu University. They also made an agreement for mutual office management and operations as well as purposes of their use. At the end of the ceremony, Prof. Dr. Ravik Karsidi presented Dr. Moriwaki with a Sebelas Maret University plaque and some Batik products, which are well-known as Indonesian traditional craftwork.In return, Dr. Moriwaki presented Wajima Lacquered photo frame with the Rector.
After this gift exchange, Gifu University delegation and the officials of Sebelas Maret University actively exchanged opinions over future collaboration of joint educational programs. During the meeting, Dr. Tonang Dwi Ardyanto, Faculty of Medicine expressed his intention to send Sebelas Maret University delegation to Gifu University next year in order to observe one of the most advanced medical Information Technology (IT) system, which is already in operation at Gifu University Hospital. Dr. Moriwaki accepted his request with pleasure. After the meeting, Gifu University delegation visited the Lab-Station (Environmental Science) of IC-GU12* within Sebelas Maret University, and was briefed by Dr. Komariah, lecturer who is responsible for management and operation of the Lab-Station about the arrangement of research instrument carried from Gifu University and the specifics of joint research programs between the two universities. Later, the delegation was guided to Gifu University Office where the Office Opening Ceremony was held in the presence of everyone concerned. Dr. Moriwaki and other delegation members entered the office and gave their signatures to the guest book as the first visitors to the office.
It is hoped that the latest visit by Gifu University delegation to Sebelas Maret University will further enhance cooperation and collaboration in the fields of education and research between Sebelas Maret University and Gifu University in the years to come.
*IC-GU12: "International Consortium of Universities in South and Southeast Asia for the Doctoral Education in Agricultural Science and Biotechnology" which was created under the initiative of Gifu University. Sebelas Maret University is one of the members of the Consortium.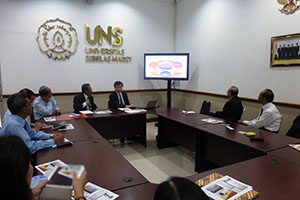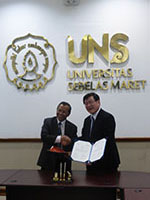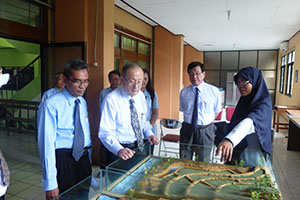 2014.12.24
Internal links
Original sites
External links
File links